What a fantastic, busy, and fun-filled week with my family! I've been out of town and away from my computer this whole week and this is my time back to blogging :). I'm so excited to be co-hosting this week's Friday Chaos Blog Hop!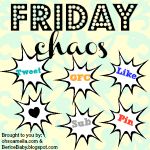 From top left clockwise:
1. Me and my man on our first Christmas!
2. My sister and I celebrating my mom's birthday with dinner and new earrings!
3. Famous chocolate chip cookies
4. Christmas nails
5. White (day after) Christmas in West Virginia!